Timeline du jeu
Visiter le shop Tric Trac
Frais de port ajustés en fonction du montant total et/ou de votre abonnement.
The Foreign King is the new Giochix tiny game affordable for all. It is a 2-4 player Euro game, size- (11x17 cm) and time-concetrated (15 mins for players). I happily joined to Giochix playtesting request and I make several plays to FK. This is my short review. Enjoy it!
https://www.giochistarter.it/scheda.php?item=1000033&crowd=1&iddo=879f73ff06940b040677771cb5400779&sxtp=1
The Setting
Leopoldo I from House of Saxe-Coburg and Gotha, was appointed first king of the new Belgium nation, arose from the fires of Belgian Revolution. The country is facing a turning point: the industrial revolution is spreading and the population is growing. In the role of the local bourgeoisie you will have to take the reins of political power and developing the nation. But the victory does not depend on benefits that you provide to the kingdom (industrial infrastructures, once built, belong to the country), but on your personal economic, industrial and political supremacy.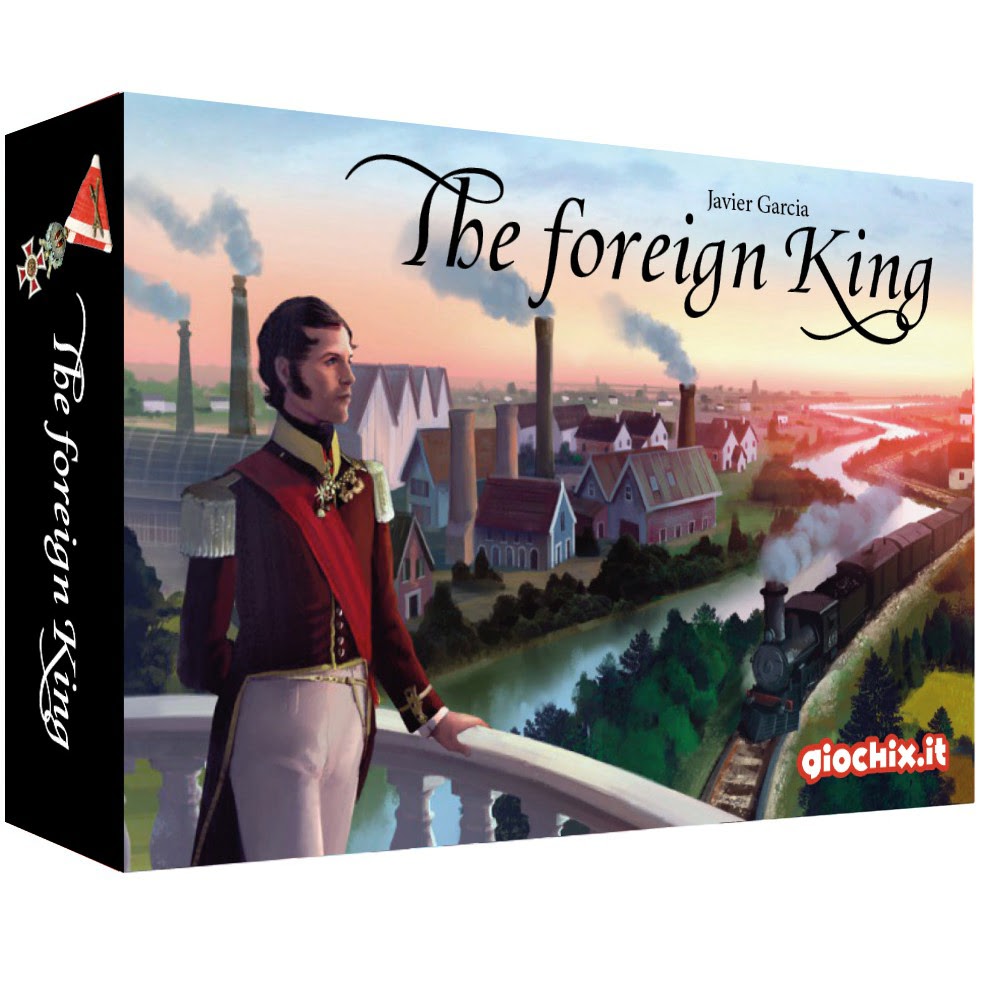 The Components
The Foreign King game includes a map of Belgium, as well as everything you need to influence the policy and economy of the nation: citizen (voters) and congressman wooden discs for every player, wooden house for textile and metallurgic factories, wooden sticks for railroads, action pawns to reserve the actions and mark the first player, cardboard markers for coins and royal medals. All game options and actions are always an eye (because depicted on the map and listed on reference sheet), so the game results intuitive and language independent.
Mechanics
The game is simple (few rules), but very deep: as in all Euro games wins the player with the most victory points. The game scales very well on varying the number of players: in two player game a ghost player appears, exacerbating competition on provinces. In fact, the competition among players is always tense, with the victory often decided by a grueling and no-holds-barred heads to head. The nice action selection mechanic (you cannot select the last done actions) is a perfect compromise between balance and practicality, and allows a variety of long depth strategies. The race for control of the regions, possess of royal medals (obtained when you industrialize a new Belgium province) and financial wealth poses divergent objectives, occasionally synergetic, that allow you to win in many different ways as long as you manage to hinder your opponents, blocking the actions more useful for their strategy.
Pros & Cons
Pros
The winner reaming uncertain till the end
No random elements, no direct interaction (pure Euro game)
More ways to victory
Perfect Balance
Not too long
Scalability (good 2 player game)
Pocket size
Cons
Not so original mechanics
Minimal plotting captivation
Solitary game missing
Not exalting graphics (at least on that prototype version)
It's a insidious drug
My own experience
After playing several games, I found the game exciting and very interesting. For my taste lasts too low (less than 1 hour), since I use play Euro brain-teasers (lasting at least 2 hours), but I think this is rather an advantage for the folk. To win, you have to sweat every VP: it is useless controlling provinces, if you do not have a majority, considering that the second do not score anything (so I take care of this objective, which is often challenged, only whether I'm almost certain to achieve it). The race for royal medals is another major achievement, and usually I put efforts on get first place. To maximize VP you must also close the game without unpaid loans (you must be able to anticipate the moves of opponents, because the exact end of the game depends on their moves, too). Often it is better for you ending a game prematurely if your opponents have unpaid debts (so in the final, who has no loans is ahead being able to end the game when he or she wants). Finally, in order to win, you have to keep an eye on many game elemens and stay focused on them. I have to say that is not easy and that was really intriguing for me.
Davide
I forgot: the crowfunding expires in only 3 days.
Today, the fourth stretch goal was actived (Catholics versus Liberals expansion).
The last 36 hours.